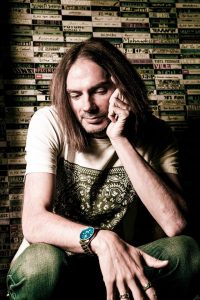 Ash Dickinson is a poet, author, comedy performer and workshop facilitator.

A multiple slam champion- including Edinburgh and Cheltenham- Ash won the BBC Radio 4 Midlands Slam in 2009. In the previous BBC National Slam in 2007 he progressed through the Scottish heats, eventually finishing among the top 8 in the UK. Ash was runner-up in the 2011 UK All Stars Slam.
In the summer of 2011 Ash embarked on a six-date feature tour of Canada, a country where he also performed in 2006 (including the Winnipeg Fringe Festival). He has performed in Australia, the United States and New Zealand where he was invited to perform at the 2002 New Zealand Festival. In 2012, Ash was flown out to both Spain and Jordan for literature events, and in 2013 he headlined a show in Berlin, Germany. In 2016 he was flown out to Prague, Czech Republic to run workshops.
Ash had a four-star rated one-man show at the 2004 Edinburgh Fringe Festival and the following year formed part of Scotland's renowned Big Word during its run there. He has appeared at the Cheltenham Literature Festival, the Glasgow Comedy Festival, the Bristol Poetry Festival, The Larmer Tree, In The Woods, The Wickerman, the Stratford Poetry Festival and The Camden Crawl among many others. He has headlined shows throughout the UK and performed at venues such as Ronnie Scott's (London), the Colston Hall (Bristol), Oran Mor (Glasgow), Jupiter Artland (West Lothian), Stowe House (Bucks) and The Jazz Cafe (London). Ash has shared bills with many national and international poets as well as comedians such as Frankie Boyle, Miles Jupp and Andy Parsons.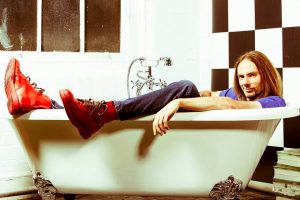 Ash has been widely published in newspapers, magazines and poetry presses. He has compered busy cabarets and music nights, performed at private and corporate functions and supported bands. He is in heavy demand to run poetry workshops. His media appearances include BBC Radio, The Times, The Scotsman, The Guardian, Metro and Sweet TV.
Ash's debut collection, "Slinky Espadrilles", was published in 2012 by Burning Eye Books. His follow-up, "Strange Keys", was released in April 2016.
A selection of reviews about Ash…



"Impressive wordplay"

– The Times



"Clever and funny"

– The Scotsman



"Brilliantly surreal invention…fabulous poems"

– Edinburgh Evening News



"A very cool combination of rap, rhyme, repetition and wry wit…Dickinson proves not only to be an incredibly gifted poet, but also a great comedian with a sharp eye for social commentary"

– Winnipeg Free Press



"Ash Dickinson is a performance poet for the Lost Generation. If you haven't seen him, you haven't seen performance poetry"

– Federation of Writers (Scotland)



"Could do for poetry what Bill Hicks did for comedy"

– The Skinny



"Surreal, hilarious social commentary and wicked wordplay…a master of stand-up poetry"

– Apples and Snakes



"Accessible and engaging, frequently self-effacing…a personable and easy-going performer…a skilled writer, he tackles the big subjects like love, identity and nature, and handles it all with skill and finesse"

– CBC Radio, Canada



"One of the outstanding poets of his generation"

– Burning Eye Books



"Wields words like wicked weapons, his vivid surrealism now overlaid with darker matter…and still those remarkable rhyme forms to astound your senses"

– Wordfringe



"Delicious comedy, theatre and rap mash-up"

– Venue

"Weird and wonderful, refreshingly unpretentious with an obtuse humour and seemingly effortless zeal…off-kilter, imaginative, yet lucid, profound and surprisingly poignant" – Three Weeks



"Dickinson's poetry is sheer magic. He's an inspiring artist with a massive imagination that swings from one unpredictable world to another"

– Petersfield Herald



"Unusual and refreshing"

– Flambard Press



"Lord, how I hate performance poetry but Ash Dickinson's skill with the medium had me turned round…for non-fans of performance poetry, prepare to have your minds changed…go see this show!"

– The Jenny Revue